It's been a busy month and a half since I last posted! Thanks to all the people watching the blog, it's greatly appreciated. I'm currently underway with some more DC books featuring Wonder Woman and Superman. Here's a illustration sample I did from a Batman book, due out this August 15th.
It's been an interesting process this time around, and I am enjoying the challenges.
I'm also in the midst of getting together a sketch book for the Fan Expo in Toronto this August. Here is the cover to said book.
Who is Ben Chalmer Stevens you ask? Well you'll have to buy the book to find out! (Shameless I know) He was kind enough to write a forward for the sketchbook. I will post more info on the con as it develops as well. I will be sharing a table with the awesome
Cale Atkinson
. Word on the street many cool cats from the Sketch Tavern will be in attendance, even the fabled Manotec (as pictured below.)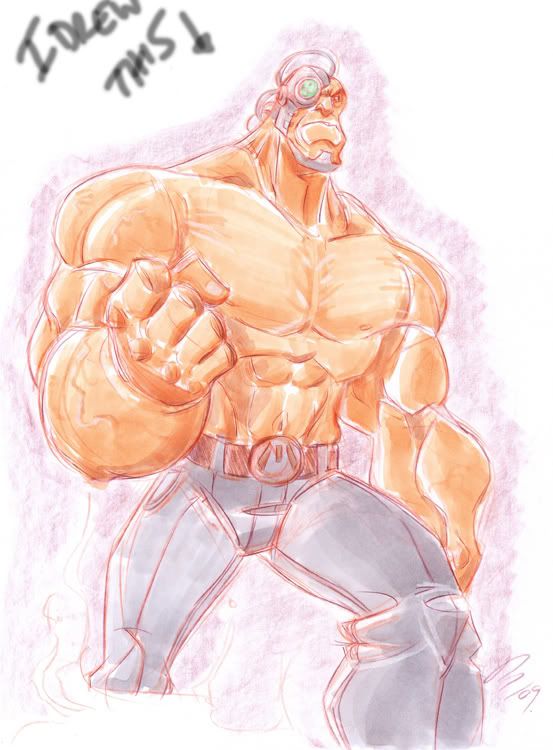 In other news, Red Fly was nice enough to post a thank you on their site regarding my name missing from the new Ghostbusters Wii game. Here's a few links if you care to read up on it;
Red Fly Dev Blog
Joystiq Article
So it seems that the SDCC is in full swing! One day I swear I'll pop down there! Some of my work will be at tables throughout the convention. One in particular is the
Darkstalkers Tribute book
. I was honored to come back and do another piece for Udon. The guys there are awesome. If you are in the neighborhood swing by the con and pick up the book. It's chock full of awesome artist's renditions on the infamous Capcom game. I wanted to roll with something opposite from what I thought you might see in the book. Instead of violence I went with love, something the world is in short supply of imho.
Last but not least, a big thanks to
Randall
Sly for featuring me on the
Character Design Blog
. You can check it out
here
if you haven't read it yet. It's a huge honor!
Til next time chaps, cheers!
Dapper